Some might remember I made a thread about replacing the bolt stock speakers. Well I guess I can't leave well enough alone, as I've moved to the next level of insanity.
I've installed a RF Prime 250x4 amp to drive the speakers as well as installed a single RF Punch 12" sub in the back powered by a second RF 250x1 amp. I built a sealed box to fit in the fake spare wheel well and the speaker with a metal grill doesn't interfere with cargo space. This box I drilled holes in the bottom that match where the screws sticking up were so I didn't have to modify the area (then glued a second layer of MDF over the holes inside), and it helps pin it in place. I also added some sound deadening material to that area, as I noticed earlier a lot of road noise coming from there without the Styrofoam thing and floor down there to muffle it.
System is not going to win a "competition" but it sounds really great and strong and meets my needs, so I'm really happy with it.
This required some hefty wiring work. In addition to battery wires and figuring out a clean way to connect 4 gauge stranded cables, I had to tap into the speaker outputs at the radio. Basically there's a brown harness that plugs into it. You can pull that, and you have maybe 2" of each wire to work with. There are 8 wires total, positive and negative for Left/Right Front/Back - dash tweeters and front doors are wired in parallel. It's very tight but not impossible. Once you have that done, the rest is easier. My car is an LT without Bose, and I believe that while I saw something online that said it has an amp, it doesn't have a separate amp, it's all built into the radio module which is in the passenger side lower dash area, and it's really wedged in there, behind welded together metal chassis. I think it would be pretty difficult to pull it out.
I ran the cabling down the passenger edge of the car under the trim and carpet into the rear where I hooked everything up. I actually had the 4 channel amp hooked up first mounted under the passenger front dash, so that's an option if you're doing just that part of it (ie, no subwoofer). Since I was running wires to the back for the sub, I decided to move it all back there, which meant a little cleaner and more accessible installation.
I routed the wires through a kicker speaker to RCA adapter (currently, only one, so everything is driven from the front which works ok but you lose the "beep" from rear cross traffic alerts as well as the ability to fade front/rear, but I have the remaining channel on order), letting me run RCA level to the back which I feel is a little cleaner/ nicer.
For the ignition switch I ran a fuse tap to F22 which is switched, with a 10 amp fuse.
So far no issues or surprises. It works as expected and unless you see the speaker or amps in the back besides amazing sound you'd never know it was upgraded.
I'll post some pictures when I get around to taking some.
Actually (edited) I have a couple of the harness:
Here's the harness with all the speaker wires.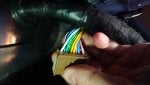 This is it in the radio. There's a grey harness in front of it in that you might want to unplug, although it's not necessary. Note this picture is taken upside down, ie, laying on the passenger foot well floor, looking up. Hope you're flexible.
The speaker wires are:
Left front speakers positive (+): blue, negative (-): brown/blue
Right front speakers positive (+): yellow, negative (-): yellow/black
Left rear door speaker positive (+): green, negative (-): green/black
Right rear door speaker positive (+): white, negative (-): blue/black