Discussion Starter
·
#1
·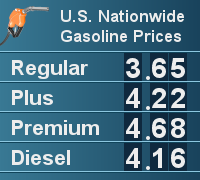 Energy costs are expected to rise with the government Energy Information Agency forecasting a 9% rise for on-road diesel prices this year and a 7% rise in retail gasoline prices. The tight labor market is expected to result in a 3% rise in wage rates. Interest rates are also rising.

This past week has not only brought higher gas prices but, in addition, the national average finds itself mere days away from rising to the highest level seen in nearly 1,000 days.

Average Price Of US Gas Rises 8 Cents, To $2.74 A Gallon. The highest average prices per gallon last week were reported from California ($3.50); Hawaii ($3.46); Washington ($3.16); Alaska ($3.08); Oregon ($3.04); Nevada ($3.01); Pennsylvania ($2.87); Michigan ($2.77); and Idaho and New York ($2.76).

Swiss investment bank UBS that found geopolitical risk was a driving factor behind the price of oil. In a report emailed to UPI, analysts there raised their 12-month forecast for the price of Brent from $57 per barrel to $62 per barrel.
Question
#1
: Does the price of gas still affect consumer views on EV's like it once did?
Question
#2
: At what average price/gallon would be reasonable for an EV owner to Gloat?