I found multiple reports of non-working USB ports on this forum, which is pretty sad. And of course I would not be writing this if I didn't have the same issue. Bought a used Bolt with ~50K miles, and found out the USB ports are busted. I am confident I can fix that myself though.
With the help of this guide -
Center Console Removal and Hidden USB Hub
- I was able to extract the USB hub module from the console middle frame. Part number 13519224 - very likely there are other compatible part numbers, for ex. 13509942, 23217326, 13509943, etc. Not sure why they made so many identical items with different part numbers (except color).
Hardest part was taking apart the shifter - the very first step. I am used to taking apart electronics, but here my usual "credit card" method did not work. I ended up taking a thicker piece of plastic I had in garage, cutting it so it has a somewhat sharp edge, and applying slightly more force than I am used to with electronics - I was afraid I'd break it but so far so good. You need to pull up and outward to unlock the top shifter cover (not the silver part! that should stay), there's no use sliding the tool left and right, clips are very sturdy and won't bend - the top cover itself is supposed to flex and unlock from them.
What I found after inspecting mini USB connection was that a couple of contacts oxidized (power and data) - on both the plug and the socket.
I will try to fix this with some small tools and see if this recovers USB functionality for me.
---------------------------------------------------------
UPD2: upon further inspection it turned out to not be the only problem. The USB hub + aux assembly it quite interesting. It's a 2 board sandwitch - one board has mini USB towards infotainment side and provides 2 USB-A ports, and the other has a wide 6pin connector input from infotainment side and provides AUX input.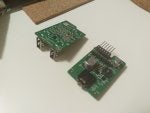 My buddy Alexey helped me with diagnostics. Here's what we found: turns out these two boards can't work without one another, or at least USB cannot work without AUX board - power to USB ports comes from the AUX board via sandwich connector pins. Initially I tried to test the USB board with my PC but that was pointless. Power from mini USB is not used (for USB ports at least). AUX board gets 12V from the wide 6pin connector, which in practice only has 2 pins / 2 wires - 12V and ground.
We believe AUX board has a 12V to 5V converter. In my case the oxidation was only part of the problem - turns out that converter doesn't work, and on USB board there is also a current limiter close to USB ports which is also busted. We think USB got shorted and that blew up both the current limiter on USB board (which is supposed to protect from short circuit) AND the 12V -> 5V converter on AUX board.
We decided it's not worth the effort to repair. Luckily these sandwiches are pretty cheap. I will try to
order and use this one I found on eBay
.
Esp. cool that it's white, cuz I have a white car and light interior
It looks identical to mine fro mall sides & connector-wise so should hopefully just work. If not I will order a black one for "Bolt" specifically - see a couple selling for ~$50.
---------------------------------------------------------
By the way - USB fuse (interior fuse box, slot 23) is a lie. At least for trim w/o rear charging usb ports. I was quite surprized that there was no fuse in this slot and thought that's a problem. It was not - there was 12V power on 6pin connector and 5V on the usb connector even without the fuse. Maybe this fuse is there when extra rear seat USBs are present? No idea.
---------------------------------------------------------
I will update the post with pictures and more info as I work on resolving this issue.